Note : There are two hot new releases for women this year. One, SGI club set by Wilson, a great budget option, and slightly more expensive – Callaway Strata Ultimate set, probably the best set for ladies right now.
The 21st century has seen women breaking all barriers and entering the so called men's foray, even in sports. Among all the traditional men sports that have caught a woman's eye, Golf perhaps tops the list.
Rules golf are simple. The total number of hits achieved and the accuracy achieved through the distance in each hit determines the point for the game and the winner. As of 2020, there are few women's golf club sets that are really good but haven't been around for a long time, so i had to update the listing and replace some of the old golf clubs i had listed.
Let's dig in and see which are the best rated golf clubs for women.
Comparison
Quick Reviews :
Callaway Strata 14 Piece
Sophistication :

While this is solid club set for women who are just getting started, it's not usable on professional level.
Quality & materials :

Sturdy clubs that if taken care of properly, can last for years. Relevant materials.
Design & flexibility :

Uncomplicated design, perfect for beginners. Easy to carry, lightweight
Style & looks :

Not a huge fan of black/purple color choice for the bag. Otherwise, fine looking clubs.
Value for the money :

At current price, it is one of the best bargains one can find.
=====
Callaway Solaire 11-Piece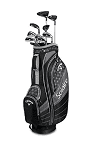 Sophistication :

Top notch golf club set all-around.
Quality & materials :

Excellent craftsmanship is to be expected when you're paying this much and Callaway doesn't disappoint.
Design & flexibility :

Designed to improve your game and let you enjoy playing golf to full extent. As one customer puts it "light as feather, but kicks butt"
Style & looks :

Even though golf clubs and the bag are all gorgeous, i don't like that it is only available in black/white colors.
Value for the money :

High price for high quality club set. Still, a little bit luxurious.
Callaway Strata Ultimate
Sophistication :

While it is unlikely that pro would take part in tournament using these clubs, still, it is more than casual golfer will ever need.
Quality & materials :

Upgraded materials compared to other sets from Callaway Strata series. Highly durable.
Design & flexibility :

Complex technologies for more forgiveness/distance. Stand bag is convenient, light and thus easy to carry.
Style & looks :

Magnificent-looking golf bag and clubs.
Value for the money :

High-end golf clubs for very reasonable price.
Best Women's Golf Clubs 2020
Callaway Women's Strata Ultimate Complete Golf Set Review
It's been less than a year since Callaway started selling these golf club sets, and product is already flooded with positive reviews and satisfied customers. Its price is less than other luxurious women's club sets, but quality is the same. Full titanium driver with large sweet spot will improve your results and other fantastic clubs are very forgiving as well. Stand bag is gorgeous and practical at the same time. It has very modern, refreshed look and comes with five large convenient pockets for your convenience. To sum up, this is one of the best golf clubs for women who are just starting to play golf. Clubs and bag are very lightweight, so women can easily manage to carry it as backpack or on one shoulder.
Wilson Women's Ultra 14-Piece Complete Set Review
Wilson is a renowned brand, and is one of the most popular golf club brands among women. This set's fantastic online rating proves that this set is loved by many. In my opinion, it comes with the Best Women's Golf Clubs available for the price. Wilson Ultra ladies' club set is very affordable for those with limited funds and looking for real quality. According to customer reviews, clubs in this set are pretty basic, but high quality and durable. Driver with over-sized club face makes it easier for beginners to hit and deliver the ball. Recommended height for these clubs are from 5″3 to 5″9, but several customer reviews say that it can be perfectly used by women from 5 to 6 feet. Bag, being extremely good looking, does not have stand, and most people find it the only insufficiency of this set.
Adams Idea Ladies Package 12 Piece Set Review
With this set, Adams chose to take step forward from it's competitors and design something special with new technology. Idea Ladies club set would be best for ladies who are looking for something very high quality and are not limited in funds. Expanded sweet spots on club faces, special game improvement wraparound slot technology, wide iron heads for facility – These traits made this set one of the best ladies' golf clubs on market. Set comes with nice club head covers and bag. Golf Bag – Being stylish and convenient, comes in three colors : BlackBerry, Melon and Raspberry. Adams Idea golf club set is normally for women of standard height, but flex for petite ladies is available.

Callaway Women's Strata Plus 14 Piece Golf Club Set Review
According to customer reviews, this set contains one of the best golf clubs for women beginners, because every club tends to be easy to hit, accurate and very forgiving. Graphite Shafts and Large sweet spots make delivering the ball super easy. Fairway Wood's stainless steel club head and lightweight graphite shaft lets you swing faster and deliver the ball to longer distance, and perimeter weighted Irons and Mallet T-Style putter have the accuracy you need to reach the destination spot. This set comes with head covers for driver, fairway wood, 4 and 5 hybrids. Being very lightweight, it's very easy to carry with nice Stand Bag included in this set.
Callaway Women's Solaire Gems 13-Piece Golf Complete Set Review
This set is close to perfect for all women – beginners, experienced, adult or senior. Perimeter weighted Irons, Hybrids with Shallower faces, thin driver face with rearward internal weighting will have great impact on your results. This set comes with precise Odyssey putter, which is claimed by Callaway to be the best putter in golf. Containing lightweight and game improvement clubs, this set is one of the best women's golf clubs. It comes with gorgeous stand bag with 8 pockets including cooler bag and removable purse. Solaire Gems are perfect for women from 5 to 6 feet. Left handed version is available. The only difficulty might be 13.5 loft driver, but most of customers got used to it very fast.
Constituents of a Standard Woman's Golf Club Set
Owning to difference in physique and stamina in a man and a woman, it is natural that there would be specialized golf club sets made for each gender. Any standard golf club sets for women would have three woods, seven irons, two wedges and a putter. The woods are the 1-driver, the 3-wood and the 5-wood. The seven irons are the 4,5,6,7,8,9 and the PW or the pitching wedge. With at least 1 hybrid and a putter, a total of twelve clubs is packed. Since the rules of the PGA (Professional Golf Association) allows any golfer to have 14 clubs, so any female can pack an extra sand wedge or an extra specialty hybrid. Irons should be compatible so that it's easier for you to learn how much distance you can get from each one. This facilitates better consistency in the golf shots. In majority of the best women's golf club sets, the lower irons like the 3-,4-,5-, and sometimes even 6- iron is replaced with a hybrid club. This makes it easier for them to hit. The trick lies in checking that the lowest numbered hybrid allows any lady to hit the ball 10 or 15 yards short than that of the highest numbered fairway wood. A woman's golf club set often has more hybrids which is actually a combination of wood head design and iron length shaft. They are not as difficult to hit as traditional irons and are popularly touted as "the best of both worlds."
Difference between a Male and a Female Golf Club Set
Though both the sets are made with the same technology, there is some difference between them which is attributed to their different body types and mechanics. This helps them accomplish consistent successful swings which create solid contact with the ball. Some striking difference in their features which should also be considered when purchasing a ladies golf set are –
Shaft-The best golf clubs for women are made of graphite which are lighter than the steel make of men club sets. They also facilitate softer and better flex to generate more power and torque at impact without the need to swing harder of faster. No compromise is done on the durability as well.
Shaft Length-Women tend to be of shorter height then men. Hence a standard woman's driver is about an inch shorter than an average men's driver. Major brands like Callaway women's golf club and Ping also have varieties 2 inches shorter. This is because only a proper club length according to your body size and height along with the length of your arms and strength will assist you in maximizing the swing power and ball control. If you are taller, it's advisable to opt for the men's golf club set.
Shaft Flex-It is the amount of bend in the club. It is a very important criterion to consider especially for beginner who requires more flex. Since women normally have slower swing speeds, a more flexible shaft works better for them. Ladies shafts come with two labels. The label 'L' flex are the springiest and difficult to control without practice while label 'A" are less flexible. Both flexes are suitable for swing speeds below 80 miles per hour which is the range of most female golfers.
Grip Size- Owning to females having smaller hands than men, ladies golf club sets come with smaller club grips. Since it is vital for a firm hold on the club, brands like women Callaway golf clubs have the option of specialized fit to size.
Loft and Weight-Ladies golf sets are mostly lighter with higher loft since most women tend to sweep the ball. Lofts of 13 degrees or more have been found to work excellent for females. The driver heads are also smaller and lighter in ladies golf sets.
===
Before Purchasing Golf Set For Woman
For any woman looking to purchase a golf set, quality and cost are two top issues to take under
consideration. Today they are not only available in vast range of prices but also a huge variety of makes, sizes and models. Any lady should only opt for those golf sets for women, which takes well care of both their game and budget. Moreover any beginner or intermediate should ideally opt for a full women's golf club sets instead of individual clubs. Not only are complete sets economical but they also enhance your game level and comfort by providing a similar look and feel. Additionally best golf sets for women also come in attractive pastel shades which appeal to the female aesthetics. Listed below are some of best golf clubs for women beginners or intermediate level which have been taken based on various expert's woman's golf club reviews.