In a Rush? Here's our pick for the best mallet putter
Scotty Cameron is a brand known for premium build putters and the Phantom X is one of the best. Constructed using aircraft-grade aluminum, it's a putter that offers an amazing feel, high MOI, and beautiful detail. Serious about lowering your scores? This putter is too good to skip the practice green.
You might be wondering why I spent so long making a list of great mallet putters… let me explain, cover your ears coach!
I never used to practice my putting… ever.
It's not surprising that I sucked in competitive rounds. Every time I was paired with a new golfer, they'd say something like "you'd be dangerous if you could putt".
One day I realized I didn't hate putting, I HATED my putter.
I traded my old beat up blade for a mallet putter and fell in love with it. I couldn't wait to hit the practice green. The next year my handicap dropped by 6 strokes from putting alone.
It's amazing what some practice and a little extra MOI (moment of inertia) can do for your game. I decided to round up the best mallet putters to give people the help that I needed and share my insight.
Recommended reading: blades vs mallet putters
️ - What does MOI mean?
This is an acronym that gets used a lot in golf, it stands for "moment of inertia", which is a measurement of how much resistance the putter head has to twisting. High MOI in your putter is a good thing, the greater the resistance the less it will rotate making it more forgiving.
️ - The Top 5 Mallet Putters
After spending hours and hours on research and testing, I'm pleased to bring you a list of putters with something to offer everyone.
Every recommendation has been carefully thought out and based around our readers' needs. The putters vary in price, manufacturer, and visually but they all share common ground. They're great quality putters and offer more forgiveness than blades.
With so many options available, cutting the list down to just five putters was not easy. With that said, It's time to bring you the putters that made the final cut! Here's my list of the best mallet putters available on the market right now.
Mallets are by no means "new technology", Odyssey 2 ball putters were getting wins on tour 20 years ago. If you couldn't already tell, I'm a huge believer in the benefits they can bring to your game. Let's take a look at a few features of mallet putters and what they mean.
Alignment Aids
Perhaps the most important part of your putting routine, aligning your ball and putter to the target gives you the best chance of making the putt. With so much choice on the market, make sure you find a putter with alignment that fits your eye.
I have a buddy who was using a beat-up hand me down putter from his grampa. The putter was so old that the alignment had worn and he couldn't tell when his putts were lined up. He's also one of the angriest golfers I've ever met, especially on the greens. His luck changed when he swapped his putter for an Odyssey mallet, and guess what? His putts started to drop, and he became a little more fun to play with!
The point of my story is it shows the importance of decent alignment. You could have the best putting stroke in the world but if you're not lined up properly, you wont make putts. If you look at reviews for the Odyssey Triple Track putter you'll notice how many people give great feedback. Many golfers mention how it feels like they're cheating. They're not cheating, they're just lining up their putts correctly! This shows the power of proper alignment and the impact it can have on your scores.
Face Balanced VS Toe Hang?
These are two phrases you hear being used a lot when it comes to putters. The benefit of a face balanced putter is that it offers less rotation through the stroke. This helps if you try to bring the putter back straight.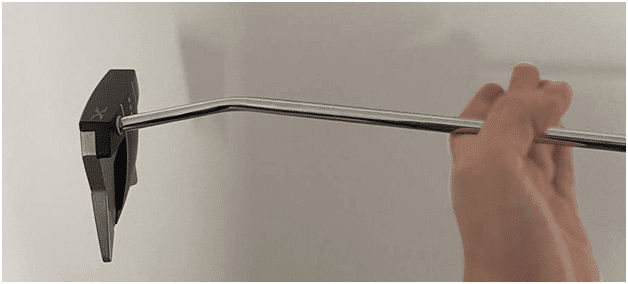 Face balanced putters, will have the putter face pointing upwards when balanced between your fingers. If I was holding the putter above, and the toe (the side without the "X") hung towards the floor, this would mean it's a toe hang putter.
Should You Use a Face Balanced or Toe Hanging Putter?
Although very few people consider it, you should use a face balanced putter if you have a straight back and through putting stroke. If you have more of an arced putting stroke a toe hang putter would be best. Face balanced putters encourage less rotation through the stroke whereas toe hanging putters encourage the face to open and close.
Price
This is one of the key considerations for people looking to buy a new putter. Although putters are getting more expensive these days, I like to think of a putter as an investment in your game. Harvey Penick famously said in his book that the three most important clubs, in order, are putter, driver, and wedge. If you're anything like me, taking pride in your putter will encourage you to practice more too. It's a win-win!
People often have their priorities wrong with golf equipment. Some spend almost a thousand dollars on a driver, but think a couple of hundred bucks on a putter is expensive. Your putter is your most used club, and you easily get the most value for money from it. You hit a driver a maximum of 14 times per round. If you're as bad as I was, you might use your putter 4 times on just a single hole!
With that said, everyone's working to a different budget. You can still bag yourself an excellent putter without spending hundreds of dollars.
Length
The pain of using a putter that's the wrong length is something I've experienced first hand. As a taller guy, the putter I was using ended up causing me some discomfort. Turns out the putter I was using was 33 inches, and I needed a 36 inch putter. This is an extreme case, with most putters being 34 inches as standard. If you're an average build you won't run into any trouble with a standard fit putter. If you're worried you're using the wrong sized putter, make sure you ask your club pro for some advice.
Club head size
The large club head is the first thing you'll notice when using a mallet putter. When I first I remember thinking "oh boy". After hitting a few you'll realize how much you benefit from that increased MOI.
Despite their heads extending around four inches further back than a blade putter, for me mallets don't feel awkward at all. This is down to perimeter weighting with weight dispersed around the grip and shaft. Remember, forgiveness is one of the major bonuses of a mallet putter. Their large head size is key to increasing MOI, improving alignment, and offering more overall forgiveness.
Milled face or face insert?
There are two different kinds of putter faces; face inserts or milled putters. Milled putters are usually a one-piece, whereas face inserts are multi material. When it comes to face insert, the clues in the name. A piece of soft material (often rubber) is inserted into the face of the putter. These produce a quiet sound off the face and provide a soft feel.
Recommended reading: milled vs. insert putters
Mid Mallet or Full Mallet: What's the Difference?
Mid Mallet putters are an excellent middle ground between a blade and a full mallet head. Visually, they share the same mallet shape with a much smaller club head size. When I tested a few mid mallets out, I got the feel of a blade with some of the extra MOI a mallet offers. A mid-mallet is a good stepping stone, if you're moving from a blade to a mallet and want something in between.
️ Frequently Asked Questions ️
With mallets being labeled forgiving, plenty of people wonder if pros use Mallet putters on tour. To answer the question, yes some of the best putters in the world use mallet putters. In March Last year, 60% of the best strokes gained putters on the PGA tours were using a mallet style putter.
Are mallet putters better than blade putters?
It's down to personal preference but it is common for golfers to see improvements when using a mallet putter. This is thanks to the technology that improves alignment, increases MOI (moment of inertia), and stabilizes your putting stroke. At one point, 9 of the top 10 players in the world were gaming mallet putters.
Are mallet putters more forgiving?
Mallet putters provide added forgiveness thanks to the weight distribution being pushed further back. The larger club head and increased weight mean mallets glide through the grass more easily too. This helps improve forgiveness and distance control when putting from the rough.
Should I get a blade style or mallet putter?
If you're a player who strikes the center of the clubface consistently and values "feel" a bladed putter would work best. For golfers who favor reliability even when the strike isn't perfect, mallet putters are ideal thanks to their extra forgiveness.
Do expensive putters make a difference?
Due to their higher price tag, expensive putters benefit from extensive research during the design phase and are made from the best quality materials. Their advanced construction allows them to be more forgiving, provide a better feel, and allows them to produce optimal performance compared to budget putters on the market.
Do you need a putter fitting?
A putter fitting is a good option if you're having real trouble with your putting. They can also be useful if you think you're using the wrong sized putter. Most "off the rack" putters fit people with an average build so as long as you pick a putter that feels great and helps you hole putts, a putter fitting isn't a necessity.