QUICK JUMP – THE BEST SET OF CLUBS FOR SENIORS
The best irons for seniors on the whole, are the Cleveland Launcher HB Turbo set. This is because of how easy to hit they are and the added distance you'll see from the CG being pushed back.

If you're looking for a complete golf set for beginners, I can't look past the Callaway Strata package set as the best option for you.

Alternatively, if you're looking for a combination set for better players, the TaylorMade M2 combo set offers some of the best quality and value for the price on the market.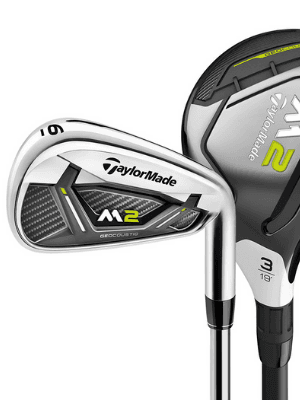 The Best Golf Clubs for Seniors?
Lots of people think that getting older and becoming a senior means you have to play worse golf. As someone who's been a member of a golf club for a long time, I've brushed shoulders with senior golfers on plenty of occasions.
In my opinion, like a fine wine, senior golfers can actually get BETTER with age… at least in some parts of their game.
I've had senior golf buddies who would wipe the floor with me in match play. After all, senior golfers are the most experienced guys on the golf course. For me, the most common misconception with senior players is that because they've lost speed, they are gradually just getting worse and worse.
The best senior golfers I know have thrived off the challenge, knowing that by working on their short game they can overcome the negative impact that losing distance has on their game.
I've also seen the benefits of correctly fitted clubs, and how they can help seniors roll back the years. By using clubs that have a lighter shaft and encourage extra launch you can still maximize your distance even if your swing speed is slowly reducing.
So, let's get into my review of the best golf clubs for seniors.
If you're looking for a set of clubs that are tailored to most senior golfer's games then you're in luck. I spent hours trawling the market and asking senior golfers at my club what they look for in a set of golf clubs for their age group.
I'm pleased to be bringing you a list of golf clubs that I believe can really help older golfers improve their game. Here's my list of the best golf clubs for seniors:
️ - Cleveland Golf Launcher Turbo HB Iron Set
First on the list, we've got a set of irons from Cleveland that are classified as a hybrid iron set. If you read my round-up of my favorite hybrid irons you won't be surprised to see the Cleveland Launcher HB making this list too. Ultimately in my opinion, they've got every characteristic a senior golfer would want. This makes them a perfect set of irons for senior players.
These are a mixture between conventional irons and hybrids. This means that the center of gravity is pushed way back in the clubhead, making it much easier to launch the ball. For those of you who are struggling to get the high ball flight you want, not only will these be easier for you to launch, but you'll probably see increased shot distance too as a result of this.
In terms of technology, the high-strength turbocharged clubface helps make ball striking feel very hot off the face. The HiBore crown also helps you to get higher launch thanks to its weighting. You can get these with graphite shafts, making them a perfect option for those of you who are looking to transition from steel shafted clubs to graphite.
On the whole, these are some of the best hybrid irons around and they're a perfect fit for senior golfers who want to improve their iron game. By helping increase launch, ball speed and offering a graphite option these are in my opinion the perfect set of irons for senior golfers.
️ - Callaway Strata Golf Clubs
These are another set of clubs that I recently reviewed, Callaway Strata and I was thoroughly impressed with my findings. If you haven't heard of the Strata clubs, they're a package set from Callaway and they're a perfect set of clubs for a beginner golfer or someone looking to upgrade their clubs.
The reason these made the list is because they are perfect for seniors who are just getting into golf. These clubs have all the characteristics a senior would be looking for and it's a fantastic complete golf set that offers excellent value for money. You get a full set of clubs, as well as a stand bag included in the package.
By investing in this set you're just a few balls and a bag of tees away from being ready to play; very beginner-friendly!
In terms of their suitability for seniors, they tick many of the boxes you'd want for a senior getting into golf. Starting with the putter, you get a mallet head which is the most forgiving kind of putter. The irons are all cavity backs which are very forgiving and help to encourage launch.
You get a hybrid which is easy to hit and a versatile alternative to a long iron. As we move into the woods (as you might have guessed), they're forgiving with the driver offering a large 460cc head to help you make good contact.
All in all, these are an excellent complete golf set for any level of beginner but are especially suited for senior golfers. With a very reasonable price tag, they're the perfect option for anyone looking to get into golf or update their setup. In my opinion, these are the best golf clubs for seniors to date.
Recommended reading: Callaway Strata review
Wilson Staff LaunchPad Irons
These are another fantastic set of irons that were included in my round-up of hybrid iron sets, and for good reason. Wilson Staff are one of golf's most underrated brands in my opinion – they're not the most talked about, but they quietly churn out great quality clubs year after year.
These are another great set of golf irons for seniors that offer better launch than traditional sets of irons. You're also going to see improved ball striking through better contact with the ground. This is due to the wide sole that Wilson Staff created for these irons. They're designed to improve how your club glides along the turf and help prevent chunked shots.
Thanks to the hollow construction and the center of gravity that's pushed way back, these are an incredibly forgiving set of irons. The reason these are so well suited to seniors is that they allow you to create all the conditions for optimal launch without having to swing too fast.
These are a brilliant set of irons for seniors who want to improve their iron shots, and Wilson Staff have done a great job creating a club that will help improve your ball striking, offer more distance, and increase forgiveness. If you're looking to improve your game from short to long irons it's well worth trying these out for size.
Ping are a manufacturer notorious for making forgiving golf clubs. If you don't fancy one of the hybrid iron sets I mentioned earlier, the G410 irons are as forgiving as regular irons come.
If your coordination has worsened as a senior golfer, a club that's built to help you with poor strikes would be a wise choice. The G410's are a cavity back iron with a tremendous amount of MOI. Thanks to weighting surrounding the toe and hozel, the cavity structure is able to deliver high ball speeds. Due to technology in the face, improved distances are easily attainable as is high launch. This is great for those of you wanting to add a little distance to your game.
Ping are one of the biggest brands in golf and they have been making highly forgiving irons for as long as I can remember. These aren't the cheapest clubs, but I would recommend these irons for seniors who are looking for a high-level piece of equipment to improve their golf game. These are easily the most forgiving cavity back irons that I've used in recent years and for that reason I'd highly recommend them for senior golfers.
Odyssey X-Act Tank Chipper
Next on the list isn't a set of clubs, and I didn't initially plan on including individual clubs but the X-Act Tank chipper is a club that could help plenty of people with their short game issues. If your hand-eye coordination is something that's gotten worse with age, this is one of the best clubs to fill you with confidence around the green.
If you don't know what a chipper is, think of it as a putter for chipping. I knew a senior at my golf club who played with one and he was absolutely lethal around the greens. Using a putting stroke when he was in the rough but had a lot of green to work with, he would play a bump and run shot to tap in distance more times than not.
Thanks to counterbalancing technology, the hands are quietened through the stroke allowing you to strike the ball more consistently. The design of the sole also helps you with tight lies and there's excellent alignment so you can line up your chips to perfection.
These may not be the most widely used clubs, but from what I've seen, it can make a huge difference in your score when it's played right. I'd recommend these for any seniors who struggle chipping with a wedge and want something to take the pressure off when they're chipping from around the green.
TaylorMade is one of the biggest, if not the biggest brand in golf. Although the M2 clubs were released a little while ago now, they are one of my personal favorites ever from TaylorMade. The driver is probably the most forgiving driver I can ever remember using, and you'll be glad to hear it comes included with this combo set.
With this club set comes a driver, a 15 degree 3 wood, a 22 degree hybrid and the M2 irons available in graphite, which is why the set is excellent for seniors. As I've already mentioned, the driver is plenty forgiving as is the 3 wood.
The driver has a center of gravity that is very low in the head. This helps increase the club's forgiveness and will help you achieve fantastic ball speeds. The 3 wood also has a low center of gravity which in turn provides added stability as well as forgiveness.
You get a hybrid which is forgiving by nature thanks to the center of gravity that's pushed back. The large Speed Pocket helps with face flex making it highly forgiving even when you've struck the ball poorly. The Speed Pocket also helps increase ball speeds thanks to a lower spin profile that can help improve distance.
To top this forgiving set off, you get a great quality set of cavity back irons which are long and feel great to hit. These don't have the Face Slots which were included in the originals, and the hosel flutes and bending notch have been removed to reduce weight.
On the whole, this is a great package set for any level of senior golfer. I consider this package to be the best combo club set for seniors on the market to date and think that these will be a real favorite amongst many of you.
Senior Golf Clubs - Buying Guide
Whether you're looking for some golf clubs for a family member, spouse or even for yourself, you need to know what to look out for. This section of the article will explore some of the considerations you need to make when looking specifically for senior golf clubs.
Shafts
This is definitely one of the most important parts of the club to look out for when you're buying a set of golf clubs for seniors. Swing speed is something that will typically suffer as you get older. So, by putting yourself in a position where you have the right shaft for your swing speed you're giving yourself the best chance of getting the optimal distance for your swing.
Sounds easy right? Surprisingly most people don't consider this.
I see senior golfers still gaming the clubs they were 40 years ago. Shaft technology has changed a huge amount since then, but so has their swing speed. There's no chance that somebody who's in their 70s should be swinging the same set of clubs they were using in their 30s. By using the wrong shafts in your clubs, you're not just suffering from a slower swing speed, you're actually helping it be slower!
The great thing about most manufacturers is that they offer a "senior" shaft option which you can choose before ordering your golf clubs. This shaft is designed to specifically cater to the average seniors swing speed, so if you know you're swinging much slower than you used to, trading your regular shaft for a senior one could make a big difference for your swing speed.
For players with slower swing speeds, it's important that you understand the impact a shaft can have on your performance, especially when used in clubs for seniors.
CLUBHEAD DESIGN
It's also important to consider the design of the clubhead when looking for a set of clubs for seniors. It's likely that with age you'll lose clubhead speed. Choosing something that can help you maximize your distance is key to performance.
The first consideration you should make with your choice of clubhead would be loft. It's worth noting that not all sets of clubs are lofted the same. Companies are guilty of strengthening the lofts of their clubs, to make it seem like you're hitting the clubs further.
When in fact, the new 7 iron that gives you a bunch more distance is probably lofted at the same amount as a traditional 6 iron. If anything, the lower loft will make this a harder club to hit so it's important you understand that.
It's also worth considering loft when looking at the other clubs in your bag such as your woods and driver. Drivers with low amounts of loft are better suited to high swing speed players. If you're a senior player who struggles to get your drives airborne, the minimum amount of loft I'd recommend would be 12 degrees.
Secondly, the design of the clubhead will have a big impact on how well you hit it. If you're thinking about choosing a muscle back style of iron, you might want to reconsider. These types of clubs are suited to players with stupendous ball-striking ability, which is why I believe cavity back irons are much more suited to senior golfers.
The reason I would recommend cavity back irons to senior golfers is due to their added forgiveness. The extra weight in the back of the head will help you launch the ball much more easily.
If you're a senior player who's tried cavity back irons and still struggles, the other option you've got are hybrid iron sets. I've touched on these in another one of my articles, but these are basically irons that have a bunch of added weight in the back of their head. This makes them super easy to launch, and plenty of them have been designed to help aid you with turf interaction and help prevent you from chunking your shots.
Why do people get worse at golf as they get older?
As we get older, it's more likely that we will encounter physical limitations such as reduced flexibility and mobility issues. The golf swing is a highly intense physical movement. Of course, as your flexibility and mobility is reduced your golf swing can suffer a lot. In some cases, hand-eye coordination can worsen too. Because golf is largely based around feel and swing mechanics, this means your quality of strike can worsen.
If you look at the professional game, once a player moves to the champions tour (which is the tour that senior golfers play) it's very rare they can compete and win on the PGA tour. This is because they're giving up distance off the tee and the players they compete against have excellent short games as well as distance off the tee.
Can you get better at golf with old age?
This depends, if you've picked the game up later in life, you will find that it's easier for you to see improvement well into your senior years. However, if you've played for the majority of your life and can remember the peak of your glory years, then it's likely that any decline in your game as a result of age is going to be far more evident.
With that said, regardless of what age you get into golf, you can always strive to improve certain aspects of your game. If you've lost a lot of distance, you better make sure your short game is on point and that takes practice. If you're retired, you'll probably find that you've now got more time to practice than you've ever had before.
How can you remain competitive as a senior golfer?
In order to play a good standard of golf well into your senior years, it's important that you're doing everything in your power to combat the negative effects that age can have on your golf game.
This means you need to be using the right equipment, whether that's investing in a lighter flex shaft or using game improvement irons. It's also important to make up for newfound deficiencies by improving other areas of your game. Ultimately as you lose distance, you have less room for errors around the green.
This means your short game and putting needs to be as good as it's ever been.
Manage your way around the course
Course management is also a point you should factor into your game. You may have played the course a thousand times before, but you should always be considering what your tactics are on every hole.
A senior player with good course management skills is likely to have a better day on the course than a younger player with terrible course management. Managing your way around the course will allow you to focus on your strengths and help you get into the best positions to score for your own specific game.
Embrace your strengths and avoid your weaknesses
You may find that as you've lost hand eye coordination, certain shots you felt comfortable with are no longer an option. In the past, you may have taken on the high lob shot and landed the ball close to the pin. However, if these shots are no longer in your arsenal there's no point trying them.
You'd be far better off playing a less complex shot, and worrying less about landing near the pin to give yourself a chance at sinking a mid to long-range putt. Of course, the more you practice your putting the more chance you have of sinking them from this sort of range!
Advice for seniors from a GREAT senior golfer
I spoke to one of the best senior players at my golf club, and asked for his advice on being the best golfer you can in your older years.
He was able to offer an excellent insight into not just his game but his mindset as a senior golfer. He made it clear that at his stage in life his number one priority was enjoying every round of golf regardless of how he scored.
With that said, he did acknowledge that he was happiest when playing well and gave me a few pointers on how he's managed to continually play well for so long. After a long chat and me scribbling away in my notepad, I think it could be helpful to share his main suggestions:
If your clubs are letting you down, invest in a set designed for seniors.
Practice your short game more than ever before.

Forget about distance and worry about dispersion.

Join societies and team events to help you learn from others in your situation.

Relish the challenge of competing with younger players or "whippersnappers" as he called them.
️ Frequently Asked Questions ️
What is the age of a senior golfer?
The age of senior golfers is surprisingly a lot lower than many people think. For men's golf tournaments at a professional level, senior players are aged 50 and above. These are often split into further age categories such as 50 and above, 55 and above 60 and above, and so on.
Are graphite shafts better for seniors?
As a general rule of thumb, seniors tend to prefer using a graphite shaft over a steel shaft. This is because as golfers get older they face reduced swing speeds and are able to utilize lightweight graphite shafts in order to maintain their highest possible swing speeds. With that said, if you're a senior who still has a high swing speed steel shafts can be a great option.
How can seniors increase driving distance?
In order to maximize your driving distance as a senior, you need to make sure you're using a driver that has a shaft and loft that's suited to your game. You also need to ensure you're striking the ball consistently out of the center of the clubface and are creating the best launch conditions for your swing speed in order to maximise distance.
If you have the right set of clubs and the right attitude, there's no reason you can't play a great standard of golf well into your later years.
Hopefully, this article has given you some insight into which types of clubs are best suited to seniors, as well as some tips on how to improve your game as a senior.
If there's one thought I want to leave you with it's this; if you're a senior golfer and you enjoy playing golf in your later years then you're definitely doing something right! Happy golfing.