In a Hurry? See the best golf swing analyzer!
The best golf swing analyzer has to be the Arccos Caddie system. This is a tool that has been proven to lower handicaps among new users by over five strokes. It offers data-driven insights into your game with clear routes of progression towards your target handicap.
As far as affordable golf technology goes, this is the system to beat at the moment and it's not just us who feels this way. At the time of writing, Arccos is the Golf Digest editor's choice when it comes to swing analyzers.
Golf Swing analyzer background
When I was learning to play golf all those years ago, golf swing analyzers weren't even around! I guess that makes me an old-timer.
But seriously, golf swing analyzers are pretty new technology and when I first heard about them I thought they were just a fad.
I didn't realize just how VALUABLE these things can be for improving your golf.
Something I learned when I bought one was that feel versus reality can be two completely different things. In my case, I used a PRGR launch monitor to track my swing speed and was really surprised by what I found.
I noticed that when I'm trying to kill the ball, I'm only swinging a few mph faster than when I swing smoothly. Knowing that I wasn't giving up much distance, I felt confident to go out and swing with a smoother tempo.
The results were great, I'm hitting more fairways than ever and have a swing that I really trust. This wouldn't have been possible without a launch monitor of my own.
Best golf swing analyzers
Since getting my first swing analysis tool, I've used a variety of systems to help me gain a better understanding of my game. I'm convinced that technology is one of the best ways a golfer can get feedback on their swing, without paying a professional.
Although some of this stuff can be expensive, there are effective tools that cost next to nothing. I've put together a list of the best golf swing analyzers that I've come across and will explain how they can help improve your game and lower your scores.
Here's my list of the best golf swing analyzers available.
Arccos Caddie is one of the first-ever Artificial Intelligence platforms in golf. This system uses sensors that are inserted into the butt of your golf grip on every club. Using synchronization with the Arccos Caddie app, the sensors are able to provide in-depth insights into your game. Such insights include automatic shot tracking, club distance averages, a GPS-powered rangefinder, strokes gained statistics, and personalized advice; kind of like a caddie in your pocket.
Just how well do these things work? Arccos claims they're pretty dang effective, with the average new Arccos Caddie member improving their handicap by 5.02 strokes in their first year. So how exactly does the platform help its members cut their handicaps this drastically?
The automatic shot tracking and club distance averages give amateur golfers accurate information to make better-informed decisions. The GPS rangefinder gives you a yardage, and the accurate club data helps you pick the right club to nail that distance. You'll find yourself closer to the hole, which can only mean one thing; lower scores.
The strokes gained system helps you improve by outlining clear progression paths. You can set yourself a target handicap and the system will analyze your game over a set number of rounds. Then it will give you clear areas to improve on in order to reach your goal.
This is something that I believe will benefit a lot of golfers. Plenty of people know they're bad at certain aspects of golf, but don't realize how much it affects their game. By highlighting the barriers to your target handicap, you know exactly what you need to improve on to get there.
Using the Arccos Caddie system is pretty simple. You start by plugging the sensors into the top of your grips and syncing it to your smartphone. However, many people don't like using their phones out on the golf course. This is where the Arccos Caddie Link comes into play. This is a clip that you attach to your belt and it synchronizes with the smart sensors. This removes the need for you to carry your phone while you play.
The only real drawback with this system that I can see would be the ongoing cost. After you pay the upfront fee, you can use the system free for a year. You then need to pay for an Arccos membership yearly. However, I guess after the first year of use you'll know whether you like it and it's worth it to you to continue using it. If you do, the yearly membership is worth as much as a couple of golf lessons so it's a pretty good investment in your game.
This is a system that will help a lot of golfers. It offers clear data-driven insights into your golf game and maps out paths to improve and progress. As a bit of a technology nerd, the biggest compliment I can pay to the Arccos Caddie system is that it's the best golf swing analyzer I've ever used.
Best affordable launch monitor
The likes of coaches with Trackman and GC Quad have shown amateur golfers the value a launch monitor can provide. This has led to a demand for more affordable launch monitors, from golfers like myself who want to learn more about their swing. I made a conscious effort to try and improve my swing speed over a number of months and needed a tool to help me track my progress.
The PRGR launch monitor stood out to me because of how affordable it was. I only needed something to track my swing speed, but this thing offered ball speed numbers as well as carry distances too. For the price I thought this was too good to be true, so was it?
The interface and operation itself are pretty basic, which doesn't really bother me. You get a simple non-color screen that shows the numbers pretty well even in direct sunlight. Once you've powered the device on you need to flick through the club options until you find the club you're using. You place the launch monitor a short distance behind the ball, positioning it out of danger then swing away.
In terms of swing speed numbers, this thing is incredibly accurate. I knew what my average swing speed was because I took lessons from a trackman teacher. I still have all the data from my lessons so I could compare this to the PRGR launch monitor. To my surprise, it matched my expected swing speed exactly which is really impressive.
In terms of carry distance, I was amazed to see how precise the PRGR launch monitor is. I have all my carry averages recorded from a gapping session that I did on Trackman. It was good to see that this cheap portable launch monitor was able to match my expected distances perfectly.
It's worth noting that some shots don't get picked up by the monitor. This was happening to me pretty frequently. This is fine if you're practicing on the range, or just want to track swing speed like me. If you're a golfer who plans to take this on the course to record every shot, it might not be as effective as you'd like. Another thing to consider is that although the monitor is accurate with the carry distances, it often has trouble picking up the correct distances for my higher lofted clubs, mainly wedges.
This is a great piece of equipment for giving you feedback on your swing speed, carry distance, and ball speed. There are drawbacks with some of the shots not being picked up frequently but for the price, you really can't complain.
This product is similar to Arccos Caddie and turns your club into a smart club. It shares the same attachment method with the sensor inserted into the butt end of your golf grip. This then connects to your mobile device to transmit instant data.
The main difference with this device and the Arccos is that it's more focused on your swing. The Blast analyzer records data such as backswing and downswing times, tempo, and speed. This is great for those of you who struggle with timing and need some feedback.
Where this system really excels in my opinion, is when you're putting. There are a total of 11 metrics collected including clubface rotation, loft and lie change, as well as stroke timing. This sort of data can be invaluable for learning about your putting stroke. When you identify what your issues are, the app contains drills that will help you make improvements. Putting is an area that so many people struggle with, especially amateur golfers that don't get frequent lessons. Investing in this system is a great way to understand how your stroke affects your putts without having to pay a professional.
This is a system that's more focused on the fundamental aspects of the swing rather than analyzing your entire golf game. I personally try not to get too obsessed over every miniature aspect of my swing. However, having the ability to get instant feedback on fundamental aspects of your swing helps keep it in check.
If I had to be critical of the Blast Golf Swing analyzer, I would say that it's a little unclear in terms of setup and requirements. I have a friend who's an older guy and he had to ask me to check for him whether his device was supported. It turns out it wasn't, as his tablet was an Android device rather than an iPad. It would be good for this to be clearly displayed on the product page, and see these devices supported in the future.
It's difficult to knock the Blast Golf Swing analyzer. It offers awesome feedback through your bag and is especially useful for anyone that struggles with putting. I'd recommend this system to anyone looking to train themselves into getting a better tempo and a more repeatable golf swing.
If you're looking for something that can help with monitoring your biomechanics, you might be considering using HackMotion2. That's if budget isn't a big constraint as these things are the priciest analyzer on the list.
This system allows you to connect a sensor to your body that is able to measure how much your wrist bends and how it changes throughout the duration of your backswing. This gives you measurements of your wrist angles in specific degrees during the swing. The great thing about it is that it can be used right across the bag from putting to driving.
Alternatively, you're able to fix the sensor to your club which can then measure swing tempo as well as consistency. Using the PerfectMotion app, which is AI-powered software, you can get feedback and instruction on your swing to help you optimize it.
How can this help your game? If your swing has severe abnormalities, they might stand out, but the difficulty with tracking how your body moves is that there's no absolute right or wrong answer.
For example, if you have trouble controlling your clubface, you can track how your wrist movement affects it through the swing. For subtle flaws, you may find it difficult to identify the steps needed to fix them.
So who would I recommend the HackMotion2 for? I think this would be well suited to low handicap golfers and teaching professionals who understand the optimal wrist patterns during the swing. There's no use giving this sort of equipment to a player who doesn't have the knowledge or expertise to utilize it, as impressive as it is.
Best swing analyzer for ease of use
This is another sensor-style analysis system. However, rather than sensors being attached to your golf club, it's attached to your glove via a clip and is then connected to your smartphone via the app. Impressively, the sensor is able to detect the differences between a practice swing and a real swing so you don't need to worry about confusing it. When you do hit a shot, the app will make a noise to record your swing and you can get instant feedback on it. This is in the form of a visual diagram displaying your swing plane details on the left-hand side of the screen. On the other side, you get to see metrics such as club speed, club plane, hand plane, tempo, backswing, and overall swing score. The cool thing about this tool is that you can set goals for the metrics, then get video tips on how to improve them. In fact, you get access to personalized training programs from tour players as well as instructors to help improve your game. One of the benefits of this system compared to others is that the sensor is attached to your glove rather than the club itself. This makes it so much easier to quickly switch between clubs. It's difficult to measure just how accurate this swing analyzer is because many of the metrics aren't found in the swing studios I've used. However, it's difficult to criticize the Zepp Golf 2 3D given the affordable price tag and considering how personalized the output is to your own golf game. On the whole, this is an excellent tool for improving your golf swing and becoming a more all-rounded player. If you don't like the idea of putting sensors in the butt of your grip then the glove attachment mechanism could be just the thing you're looking for to take your game to the next level.
Benefits of golf swing analyzers
Instant Feedback
The great thing about golf swing analyzers is the feedback you get from using one. What you feel out on the golf course and what's happening in reality can be so far apart; it's scary.
Systems such as the Arccos Caddie give you feedback that's pretty much impossible to realize without a heap of data to back it up. You might get an idea without using an analyzer that your putting or short game's letting you down. However, it hits home when it's put in front of your face and you can see exactly how many strokes you're losing. Clear feedback on what needs improving is the best way to wake you up. Features such as the desired handicap analysis on Arccos does exactly that, telling you specifically what you need to do to reach your target handicap.
Gain Confidence
This comes hand in hand with feedback. Swing analyzers don't just highlight the flaws but also point out what you're doing well. That can work wonders for your confidence. If you know that putting is the strongest part of your game, you'll start priding yourself on it.
Dr. Bob Rotella, the sports psychologist who's mentored many of golf's greats mentioned the importance of this in his book. Priding yourself on an aspect of your game can really inspire confidence. If you hit a bad shot with your irons, knowing that you have a strong chance of getting up and down to save par will keep you calm and have a positive effect on your scores.
Get A Baseline
Swing analyzers allow you to get a clear picture of where your swing is currently at. I'll give you an example of how the PRGR helped me with this. I wanted to undertake some speed training with speed sticks, but didn't have any way that I could measure my baseline and progression. After buying the portable launch monitor I was able to record my initial swing speed before starting the training and then monitor it closely as it increased. Creating a baseline is not only useful for understanding your current position but gives you a sense of accomplishment and pride when you make improvements.
️ - Do you have to break the bank to analyze your game?
When you look at the price of some technology in golf, it's plain unaffordable for most amateurs. Considering that some of the best launch monitors in the game can cost more than a car, it's easy to see why people are looking for more affordable options. Other than the HackMotion2, the products that I've looked into in this article are all very reasonably priced in my opinion.
The best swing analyzers often come at a price because of the advanced sensors and backend systems with server loads to pay for. However, not everyone has the budget to be investing in a golf swing analyzer.
Free technology to improve your golf
There are free alternatives to the options I've discussed so far, and some of these can be really helpful for your game. Let's take a look at the two free tools that I use on a regular basis.
Hole 19
This app is available for free on Android and IOS devices. The app is able to locate thousands of golf courses and allows you to gain valuable insights into the course and your golf game.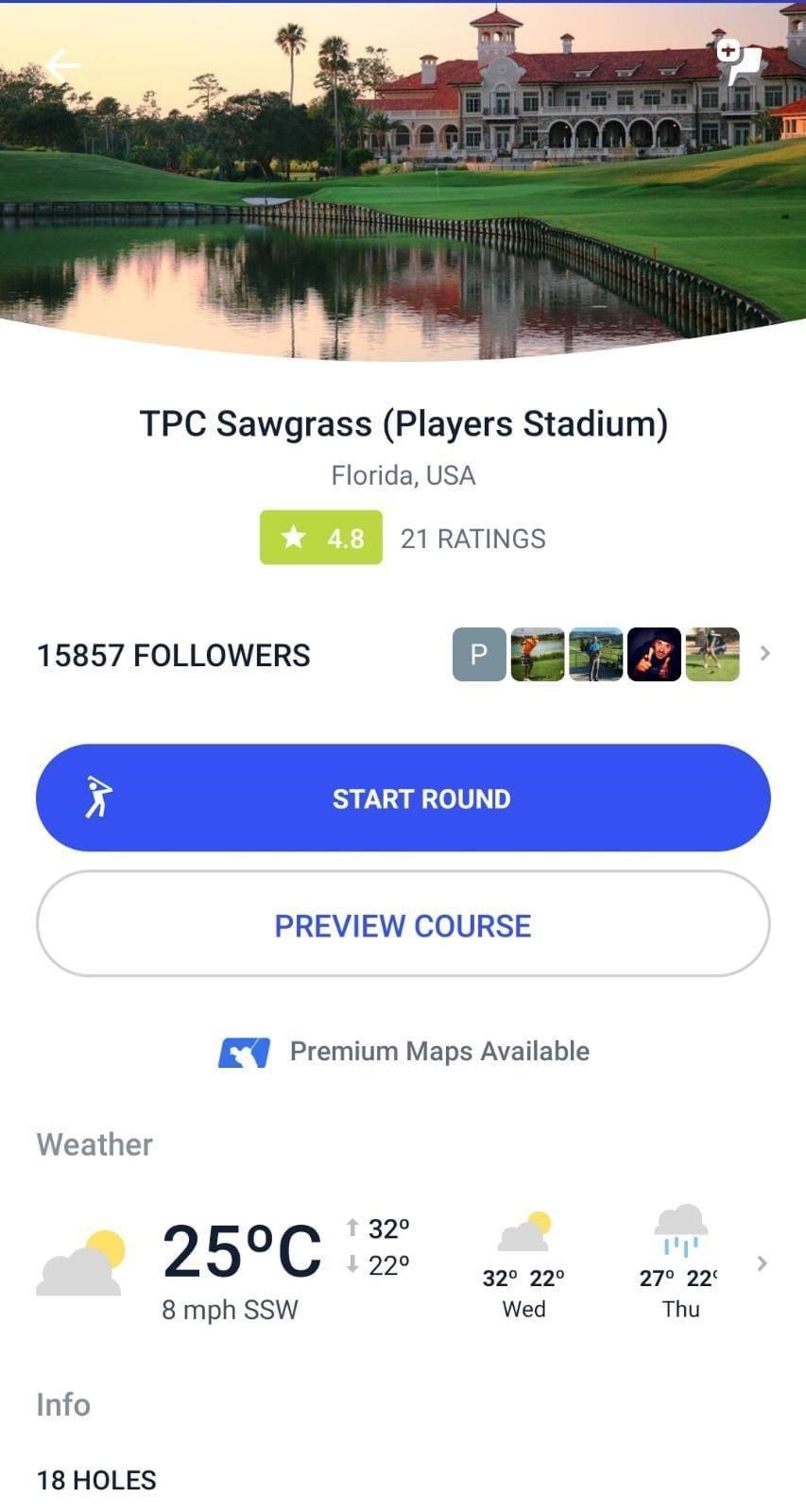 During play, you are provided with precise GPS distances to key areas such as hazards and the front, middle, and back of the green.
This doesn't quite examine the fine details of your swing, but what it does do is let you learn a lot about your golf game. When you start monitoring distances to your targets it becomes simple to learn how far you hit your clubs. This allows you to utilize the GPS rangefinder and make more informed decisions about club selection. It also helps with improving your course management to avoid hazards.
This app is available on smartwatches as well as your phone, which is awesome if you don't like carrying your phone around. If you have a compatible IOS or Wear an OS watch you can get the distances directly to your wrist.
Google Earth
You might be wondering why an app that has nothing to do with golf made my list of free golf swing analyzers. Google Earth is available on your computer, smartphone, and tablet and allows you to gain aerial views of your golf course – but how does this help?
The key function that makes this thing a machine for improving your golf game is the ability to take measurements. For example, you could find your local course, navigate your way to the first tee box and use the measurement system to get a yardage for that bunker you always hit your drive into.
I use Google Earth to help me improve my golf game on a regular basis. One of the most useful functions is measuring the width of each hole. When I'm planning for a golf tournament (especially if I don't know the course), this can be invaluable. Let's say the fairway is at its widest at 200 yards, with a little help from Hole 19 I can confidently pick out my 200-yard club and give myself the best chance of finding the fairway.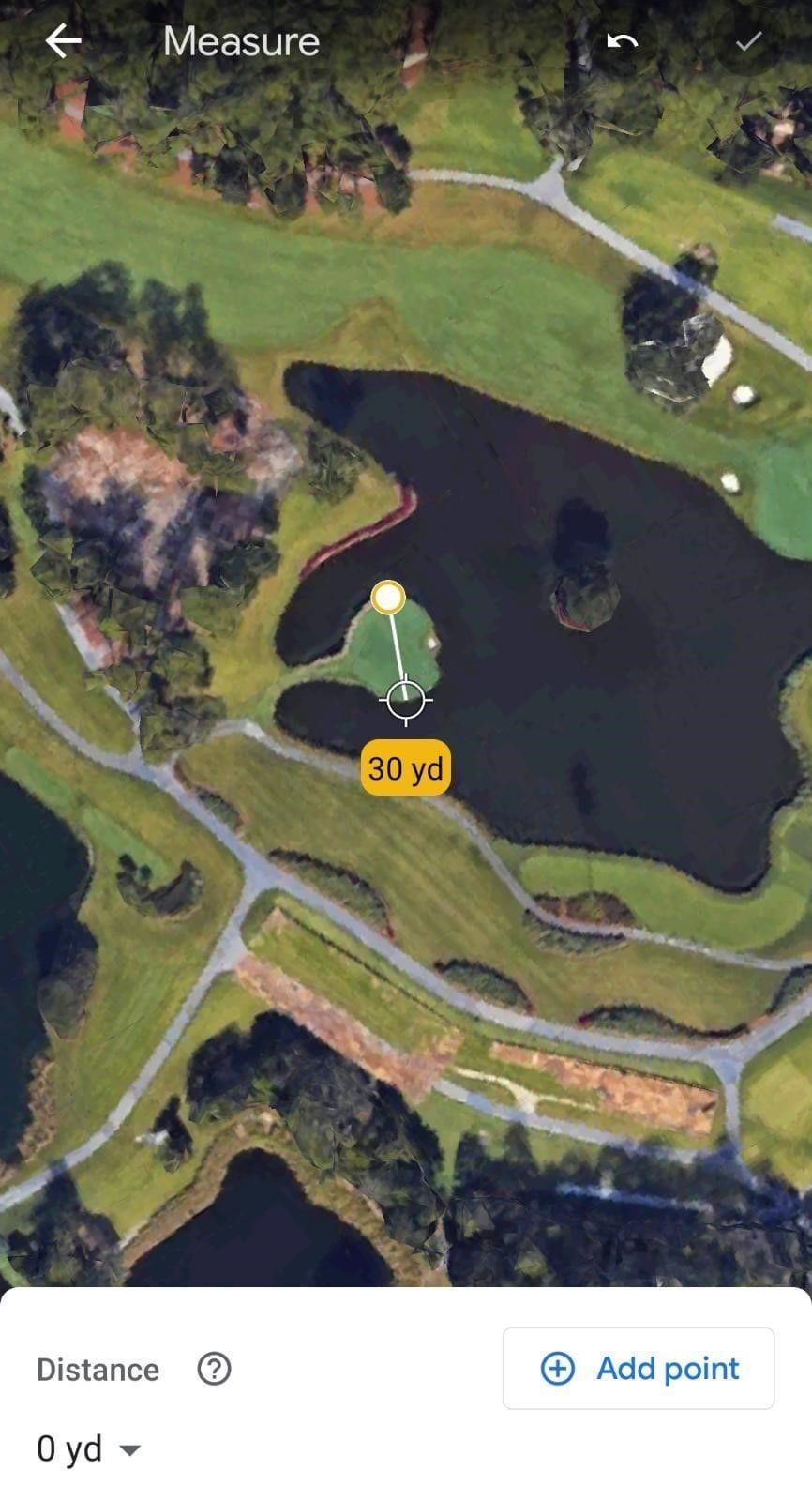 The same principle applies to measuring out the greens, you can use Google Earth to gain an overview of which part of the green is the widest. Using this information during your round, you can aim to attack this area to give yourself a great chance of hitting the green.
Golf swing analyzers concluded
My view on golf swing analyzers is that they are excellent tools to help you improve at golf when they're used efficiently. I'd recommend considering which areas you think you need to improve before deciding which sort of system to buy. If you don't know where you need improvement, an all-in-one game analyzer like Arccos Caddie will help you identify the areas you need to sharpen up.