The late Arnold Palmer came under criticism in recent years for marketing various clubs that did not meet USGA or Royal & Ancient "fairness" standards. But the great ambassador of the game was unperturbed. "I'm not marketing these clubs to touring pros," Palmer said in an interview. "I'm marketing them to amateur players and seniors, to increase their enjoyment of the game."
Enjoyment of the game can be in tragically short supply at a lot of snobby country clubs. We've all seen the low-handicap player curse and rant his way through a round of 81 or 77 on a pristine course, knowing that millions of hobby players would kill to be in his shoes. In a world of celebrity-pro endorsements and specialty clubs for the top player, are there any manufacturers left who make a science out of helping the average golfer?
The answer is yes – look no further than Adams Golf. The "Idea" iron series is, excuse the pun, a great idea – a club for the modest weekend golfer that is not a simple, cheap design sold on supermarket racks but a labor of love. Adams has put a lot of thought and effort into the Idea line with beginners, seniors and weekend warriors specifically in mind.
The Idea A12 OS series is a "hybrid" iron set, combining elements of forged and cavity-back clubs. The clubs come with graphite shafts, ultra-thin heads, and a low center of gravity. Marketing focuses on the patented "Velocity Slot Technology" which is said to "produce a spring-like effect across the entire face, which improves forgiveness and increases launch angle without increasing spin."
A lack of spin might translate to a lack of shot-making control and dart-throwing backspin to the scratch golfer. But the Idea series is not being marketed to them. Instead, the irons are designed with a whole host of other groups in mind: beginners, seniors, mid-to-high handicappers, municipal-course players and short-hitters looking for accuracy to navigate their local drive-and-pitch layout.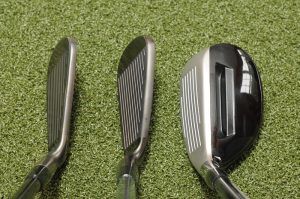 The Adams Idea iron set markets for around $$$ (Check Current Price) on Amazon. The clubs look exceptionally good for cavity-back clubs, lacking the natural beauty of forged irons but without any loud colors or oddly oversized/lopsided heads as can be the case on sticks with large cavity-backs.
Playability &Customer Reviews
Despite being marketed partially to the novice, Idea irons are somewhat light, and best suited to players who have at least developed a smooth swing.
A light club is the one chink in the impossible-to-mishit armor of a game-improvement club for 2 reasons. First, a power player with a truly wild swing can more easily lose a solid grip on a light club on his downswing, and windy conditions can make the problem worse. Second, on a purely practical level a total mis-hitsuch as a top, a super-fat divot-digger or a shank will fly less far when the ball is whacked with a lighter club head.
Then again, it isn't always desirable for a shank to fly far.
Players have reported that no matter what, the Idea irons keep the ball in play. Mis-hits can feel a little "harsh" but that's nothing unique. In general, though low-handicappers are prejudiced against the look and feel of game-improvement irons even club professionals admit seeing an improvement in high-handicappers and senior golfers playing the series. Shots fly relatively straight and land relatively soft, and the feel is actually somewhat responsive for a cavity-back line.
For the Low Handicapper
The Idea A12 OS iron set is not well-suited to a scratch golfer's game, even a junior/senior low-handicapper's game. However, in a pinch the clubs serve as a decent rental or loaner for a fun and enjoyable round around a short or medium-length course, provided that you are not hitting uphill approach shots on to hard, fast greens that will punish the relative lack of backspin.
For the High Handicapper
The Idea line receives massively favorable reviews from modest players, reporting that it is nearly impossible to hit a shot out of bounds. Test rounds from a wide spectrum of skill levels have demonstrated that while fine finesse shots to the pin are rare, almost every ball is easy to find and penalties for landing in major hazards are almost non-existent.
Equally as important, Idea irons are long for most mid-to-high handicappers and players with slow swing speeds. Up to an extra club long, in fact. For many senior and lady golfers, that means the difference between hitting an iron or a wood to a Par 3.
For the Power Hitter
For the grizzled power-player hoping to earn a few more birdies to win Skins, the A12 OS set is a poor value. Your driver may put you in a good position to attack the flag, but the lack of backspin and precise control afforded by a game-improvement club will frustrate your efforts to get the ball close. Iron shots will settle farther toward the back of the green, and wedge efforts will begin correctly but finish wide of the target.
But for the young golfer with a big looping swing, these clubs could actually be a good temporary training set, helping to settle your game down and keep wild shots in play.
For the Short Hitter
What type of short-hitting player should look into the Idea irons? Not the scratch-handicap finesse player negotiating the mysteries of Merion. But…everyone else.
The junior or female golfer needing a distance-boost without losing accuracy will find a comfort zone with these clubs. So will the senior, looking to steady frayed nerves and have makeable chip shots and 2-putts throughout a round. The high-handicapper who lacks power will gain control and length from these clubs, and the ordinary municipal-course golfer will find paradise in the dandelions.
Rank-and-file players, not celebrity superstars on TV, are what golf is all about. To their credit, Adams Golf is paying a great honor to the common golfer by putting so much science and craft into these clubs – and shaving a lot of strokes in the process.