Introduction
Most parents, who have recognized budding golfing talents in their toddlers, are keen to propel their children towards going pro. An early start leads to better and faster learning. Getting the right kind of clubs, balls, shoes for children, is important because training wrong is worse than training late. Hence, parents typically invest in pro 14-piece golf kits, or kits which are too big for their child. Throw in the additional factor of a child's normal growth rate, fitting juniors out with a golf kit can be quite a daunting and expensive endeavor.
April golf deals! 50% off or more..
If these young champs in making are equipped with ill-fitting clubs or clubs that do not complement their style, it will harm their game forever. However, with the right set of clubs, a young child can be taught the basics of golf, before being handed professional equipment. So you must stress upon getting the best children's golf clubs you can afford..
Comparison
Recommended Reading: Mizuno ST-Z Review
Features to look in the Best Junior Golf Clubs
Though each child is different with differing rates of growth, swing power, gait and gripping styles, some ground rules remain largely applicable to the identify the best golf clubs for junior golfers.
Height and Weight of Clubs
A child can only hit so high or so far according to her strength, physique and age. Giving a junior a heavy iron or wood can not only throw off the game, and teach him a wrong technique to compromise for lack of power on his swing. Not to mention, bad posture and stance. Length of the shaft should also be correctly scaled down to have but only a negligible error in positioning.
The junior clubs available in the market are either made of aluminum or titanium inserts. Aluminum clubs tend to be slightly heavier, but are counted as the best golf clubs for kids and good for beginners.
Flex
Unless your child has a highly advanced power swing, opt for clubs with accommodating shafts. Since swing speed for a junior could be anywhere between 60 to 80 mph, the club should be designed to propel the ball further as well as maintain height and trajectory. Shaft flex that lies somewhere between Regular or Ladies, or in some cases, below ladies, are good for junior to start. These types of flexes are called "Junior Flex" and are meant especially to aid young golfers. It will help them make impact with the ball on most attempts as opposed to stiffer flex shafts, and are useful in strengthening your child's swing power.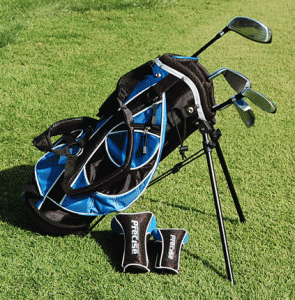 Grip
Grip on shafts are equally important while picking up a set for your youngster. Smaller children will have smaller hands which would need to go all the way around holding a club correctly. Improper gripping techniques could result in loss of power on the swing, even if the club is of the right flex, head-size, height, and weight.
Price and budget
Having professional equipment for any game is bound to burn a little hole in your pocket, and moreover, children need to be fitted almost every year with equipment as they grow.
There are some junior club manufacturers that provide adjustable shafts that lock into place. These one-time investments are great to start if you need to buy the best golf clubs for kids, till your child gets all the basics down.
Coming to the clubs themselves, as we've mentioned before, there are either aluminum or titanium composites. Aluminum is the cheaper of the two and, less dense. Therefore, these clubs tend to weigh marginally more than their titanium cousins. The weight doesn't matter significantly for a junior beginner. Tournament level juniors might want to invest in titanium clubs for a better game.
Game Expertise and Skill
As children begin to refine their game and improve as they move along their training, they would need to be fitted out for newer and better equipment. It is at this point, that parents can think of investing in more expensive kits which contain the complete range of clubs. But until then, knowing where your child stands in his learning path, is not only a good way to chart out his success, but also helps you make smarter investments in professional equipment.
Children as young as 5 or 6 are just starting out and can work well with a large variety of junior kits available in the market. Clubs can be picked up separately as well, if you prefer. But most kits have the needs of beginner golfers, covered!
5 Best Junior Golf Clubs in 2020
To make it easier for parents to pick up and get started, here are a few clubs that are highly rated by those who purchased them.
Powerbilt Golf- Junior 6 Piece Set With Bag
This compact little kit is designed for ages 3 to 5 and height between 3 to 3.5 feet. The kit includes golf clubs and a carry bag. The graphite shaft clubs included are, a 320 CC driver, wedge, and a putter comes with head covers as well. The golf bag has a built in stand to keep it propped up.
Priced between 79$ and 89$, these clubs are reasonable and can be purchased online. One of the advantages with the Powerbilt Golf Junior is that it can also be purchased pre-owned, which provides you an added discount on the sale price.
The clubs come in both left hand and right hand orientation grips. It offers a junior flex. When combined with a set of foam practice golf balls and a snazzy cap, it makes a great Christmas present from grandparents, who would like to see their little grandsons and daughters follow in their golfing shoe-prints! 5 Satisfied Amazon Customers have rated this clubs making them the best in the list of Best Junior Golf Clubs.
Intech Future Tour Junior Golf Set
Designed for older children, i.e. ages 6 to 11, this set contains a set of four clubs and a carry bag. The clubs are made of graphite composite and contain Fairway Driver (35"), 5 Iron (32"), 9 Iron (30"), Putter (27.5").
The clubs are specially designed to provide Junior flex and easy swing and drive. They are neither too heavy nor too light and offer the right balance for your child to practice.
Like the Powerbilt set, this Future Tour Junior Golf kit is also price at around $ online. This set is covered under a 1 year warranty. It is available for both left hand and right hand orientation and grips.
Coming to the carry bag, it is a simple nylon single strap bag that unfortunately, doesn't come with a stand. As children grow between ages 6 to 11, this set is a long-term investment in terms of a gift. It is perfect to start out to see if your little one would like to take up the sport more professionally in his later years. Nearly hundred Amazon customers gave very high rating with many others very happy with the price, quality, and length-weight ratio of the clubs.
Paragon Rising Star Clubs Set
Following the first set of clubs on our list, this set is also designed for the littlest players on the field. They are made for children between the ages 3 – 5. The set contains three clubs with graphite shafts, and a cart bag. A Fairway wood has a wide-sole Iron and a Putter. The materials used are of a superior quality, such as titanium matrix for the driver, and stainless steel for the iron. The manufacturers provide a lifetime warranty against breakage.
The fit is appropriate for most children within the 3-5 age range, and is comfortable and adjusting on the swing. Like all the other club sets on this list, they also provide both left and right handed orientation.
This set is one of the most competitively priced kits on our list today and is within the ballpark of $. The set is also available pre-owned as well as new. It has earned excellent rating from dozens of buyers. The clubs' superior quality and not brittle plastic are much appreciated features. It is strong enough to handle kiddie tantrums as well as flexible enough to give sufficient lift and distance on ball impact.
Prosimmon Icon Junior Golf Club Set
This beauty is all bang for the buck! It offers 5 types of clubs and a dual strap bag with a stand, all for $. The clubs include a 3 Wood, 5 Iron, 7 Iron, 9 Iron, Mallet style Putter.
Couple this set with a putting green and some practice golf balls for the ideal gift for children. This set caters to the age group of 4 to 7, with titanium matrix 35-36" driver and 30" irons. The grips offered are for right hand orientation.
The extra loft and wide-sole designs are great for kids starting out as they offer softer flex and good swing. The product has earned an impressive high rating by various Amazon customers. Being the only kit on the list to feature 3 irons, this set Is great for children who show the ability to achieve distance gaps with the different clubs they use. The high-quality bag looks professional as well, making it an all-rounder kit for a child.
Winfield Junior Force Kids Golf Clubs Set
Rounding up our top 5 picks, is another 5 club set with a dual strap stand bag. This set is designed for children between the ages 5 and 8. The clubs are made of quality matrix alloy and graphite shafts with a soft flex, forgiving on the swing. Although it is priced slightly higher, at around $ for a pre-owned set, the quality clubs and bag are a satisfactory investment for 3-4 years of beginners' golf.
The clubs included are a driver, a hybrid lofted iron, two wide oversized irons, and a mallet style putter. The kit comes in both left and right orientation grips. A combination of this kit with a golf glove, golf towel, and a few practice golf balls makes for an all-encompassing junior golf gift set.
Children having height between 45" and 50" find these clubs quite comfortable! These clubs have earned a decent rating from bunch of Amazon customers.
In conclusion
With so many kinds of pre-fit golf kits available in the market, you can take your pick according to your child's height and skill level. The products in this list Best Junior Golf Clubs work quite well till juniors are able to make contact with the ball in every strike and send it soaring. Once they start perfecting their game, professionally fitted clubs are the next steps in their golf training.
You can analyze your choices with the online shops like Amazon to select the Best Junior Golf Clubs. Here the customer reviews and feedback will help you to mark the best among your chosen products.