For an affordable alternative in customizable golf clubs, TaylorMade offers its classic "RocketBladez" line of irons at a slightly less expensive cost than many designer club sets. I will review this set and also compare it with other top notch sets offered by Callaway, that cost around the same as the RocketBladez set.
The regular-loft RocketBladez model irons are the earliest TaylorMade line to feature "speed pocket" technology, a weight bar placed low within the club head to help mid-handicappers get shots off the ground and flying at the flag, even if struck somewhat thin. RocketBladez are marketed as "game improvement" irons, which means they are designed with the bogey golfer in mind. However, there is much to like for the low-handicapper as well.
Golf.com's 2013 review calls the RocketBladez one of the straightest-hitting iron sets on the market, long and playable with a "slice busting" quality that controls the wild spin of an outside-to-inside swing path.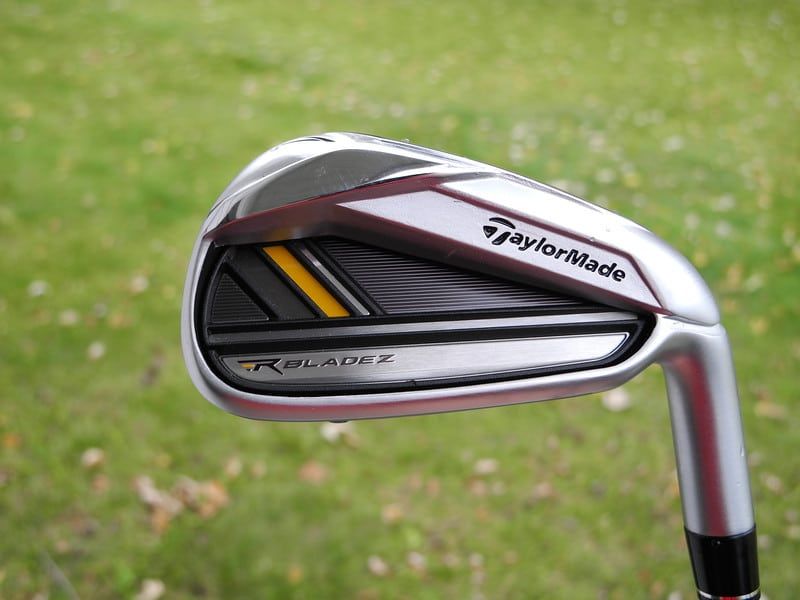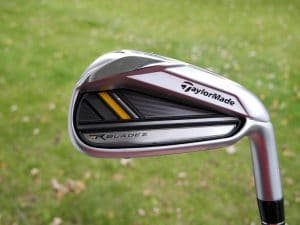 Another attribute is distance control. The irons will not differ wildly on distance when slightly mis-hit, a blessing for players who don't have perfect rhythm. But as with other TaylorMade lines featuring the Speed Pocket, golfers who have an aggressive down-swing and prefer to "trap" the ball against the fairway to produce backspin may feel uncomfortable playing them. These clubs are made for classic swings, players who sweep the ball off the turf with a small divot.
Meanwhile, the RocketBladez HL line has the detraction – or benefit, depending on your swing path – of coming without the Speed Pocket, so that balls hit high or low on its face will carry a similar distance and feel similar when struck. The HLs come with an adjustable launch angle, regular or stiff shafts, and a vibration control system to improve the feel of the ball hitting the club face.
The HL line also includes the option of purchasing an "A" wedge, for a customized short-hitting approach club. Golfers who like to carry more than 2 wedges are more numerous now than they were when RocketBladez first were introduced in 2009, so TaylorMade can congratulate itself on being ahead of the curve – or at least the loft.
Playability & Customer Reviews
The weight-bar technology of the regular RocketBladez line offers fine distance, with consumers reporting that the clubs knock the ball at least 1 club-length farther than garden-variety irons. The clubs offer a lower trajectory than the newer SpeedBlade line, which is good or bad depending on your swing and where you like to play.
Golfers who already hit the ball low and play hilly parkland courses in North America will likely want to look elsewhere instead of investing in the regular 'Bladez. However, those who can hit it high and long may actually benefit from the lower trajectory, especially for windy courses overseas or in the Southwestern United States.
Players who hit a low, "trapping" iron shot with an aggressive downswing (and who like to play the ball back in their stances) should take a hard look at the RocketBladez HL model. With its high trajectory shot pattern and increased distance factor, it could be just the ticket for such players who find that their long approaches tend to fall short and bounce unpredictably.
There is disagreement about the blue and yellow-infused look of both iron sets. While some players find the colors garish, others like them, and still others really don't care how clubs look when sitting in the bag as long as they feel good and inspire confidence on the course.
For the Low Handicapper
Both the regular and HL RocketBladez lines are insufficient for the finesse, shot-making scratch golfer. One reviewer on Amazon notes that the "Blade" in the title made him think of traditional, shot-maker's irons but upon playing them, he realized that these clubs are designed with simple, straightforward shots in mind.
However, the days in which all professional and top amateur golfers "worked the ball" are long gone. Many low-handicappers today are simple power players. If a 450-yard Par 4 can be conquered with a 350-yard drive and a high, straight-on wedge shot, why not hit the gym and cultivate a game based on power and consistency?
For straight-ahead scratch players looking to hit nothing but direct iron shots and pitches, RocketBladez can be extremely effective – especially on courses that emphasize length and accuracy such as Firestone.
For the High Handicapper
RocketBladez are an excellent choice for the novice, especially as beginners tend to hit "slices" which bend from left to right – a miss that these TaylorMade irons will help control.
The consistent length and shot pattern will help you get closer to the green on mis-hits, and the trajectory of the HL line will help you stop approach shots near the flag even if you haven't learned how to apply enough proper backspin.
For the Power Hitter
There is less value in the regular RocketBladez series for players who already hit the ball long – the last thing you need is a long, yet low and bouncing shot pattern with your irons.
However, the high-launch set could be a terrific purchase. Helping to minimize damage of imprecise swings, the RocketBladez HLs can allow the long hitter to pull out the "A" wedge and execute a simple 100-to-125 yard approach after hitting the fairway…even on a long Par 4.
But careful, consider where you play! You don't want to try playing high-launch irons in gale force winds, nor on links courses where overly floaty shots are at the mercy of the wind.
For the Short and Straight Hitter
The serious finesse player should only play these irons if extra distance is an absolute must. For many short hitters, whether you are playing a 4 or 5-iron shot to the green makes little difference when shot-shaping is truly your best weapon – and RocketBladez are not designed to work the ball.
However, for the hobby player who frequents a local municipal course with its 300 to 375-yard Par 4s, the RocketBladez HL series can be a solid choice. You don't necessarily need to maneuver the ball around harsh hazards, but you do need consistency and trajectory from hilly lies and in approaches to small greens.
Remember to consider where you play most often – the choice between TaylorMade RocketBladez irons and another club set can be as simple as peeking at a course map.