*2020 Update
Kalea golf club set is still one of the best for women
Doesn't come with golf bag, but includes headcovers.
Just 10 clubs, but optimized for distance gaps, so all of them are extremely useful.
Great value, even at comparatively high price(link opens in new tab).
Getting perfect golf set for women is very difficult as golfing and men is mostly taken as default pair. With newest Kalea golf club set, TaylorMade salutes the golfing spirit of women and gives the set with range of golf accessories that not only improve the golf skills of women but also help them in taking those perfect shots from any range or on any terrain. If you want to see a significant change in your game then don't look any further, because TaylorMade Kalea will have you covered.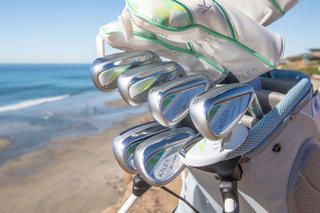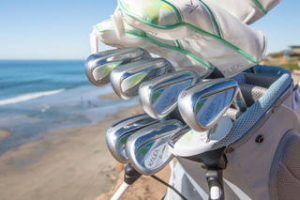 Features of TaylorMade Women's Kalea Complete Golf Set
• Kalea set is available in two options a 10 club set and an 8 club set. When you get a 10 club set it gives you most handy and comfortable driver, 3-wood, 4 hybrid, 5 hybrid, 6 iron, 7 iron, 8 iron, 9 iron, PW, and SW clubs. Getting an 8 club set you can polish your game with 4 hybrid, 5 hybrid, 6 iron, 7 iron, 8 iron, 9 iron, PW, and SW clubs.
• Taylormade ensures that the clubs are lightweight and easy to maneuver when a game of golf is your way of relaxing. So, the clubs are made with SLIMTECH shaft to leave you content with your puts.
• Although sleek and fragile looks of these clubs make them appear beautiful but these clubs are just the opposite with all the strength and mettle to be in a lady's controlled grip.
• One thing women do admire is beauty. Taylormade clubs are indeed an example of brilliant design and look that they easily find an enviable place in golf carts of brilliant women golfers.
Benefits of Kalea over other sets for women :
• When you play with Taylormade Kalea you will play your best game ever played. Your hybrids will go off the ground and really far away to knock off your opponents.You will be able to get long and straight drives always without a miss.
• Its sleekness and ability to maneuver your golf ball will always amaze you. Your tee shots and fairway shots improve dramatically with these clubs. These are specially designed and manufactured with lightweight construction materials so that while playing you don't feel tired or exhausted. You will be able to go to the extremes while playing.
• The biggest advantage for me, was how simple it is to clean these clubs. Just wipe off the dirt, grass blades or other filth typical of grassy ground and you are ready to go.
• Not only they are easy to carry and hit but are also look like a piece of art designed and created carefully just like its users.
TaylorMade Kalea Review Summary
Taylormade Women's Kalea Complete GolfSet fulfills all the needs of the women in an exciting game of golf. This golf kit contains all the needed clubs that are crafted to match the right mix of elegance and efficiency of women of today. This set of golf clubs is lightweight to make the game enjoyable, price to make the perfect shots and beautiful just like the person holding it. 72% of the Amazon buyers have given this golf set a perfect 5 star rating