Callaway released newer version of their solaire gems club set. I didn't have a lot of time to investigate it, but few things i've noticed at first glance are the price and new designs of clubs as well as the bag itself.
This version's design is definitely better than what it used to be, both in terms of style as well as functionality.
The newer Solaire Gems also seem to be lighter than the old version, and certainly much lighter than most women's golf clubs you can buy right now. One reason for that might be the fact that this set comes with clubs with shafts made of graphite, a material known for its light weight.
The best part of it all is that Callaway managed to do all this without increasing prices.
This new set for 2021 comes with a stylish stand bag, 9 clubs, and headcovers. There are three colors available, i think choices are : pink, grey and black. In my opinion, all of them look great. One interesting thing is that new Callaway Solaire doesn't have woods at all. They are replaced entirely by 5 and 6 hybrids and a driver.
If you're a lady who's into playing with hybrids, you'll greatly appreciate this golf club set. Even with its high price tag, i think it's the best option available for ladies of all ages – from young adults to seniors.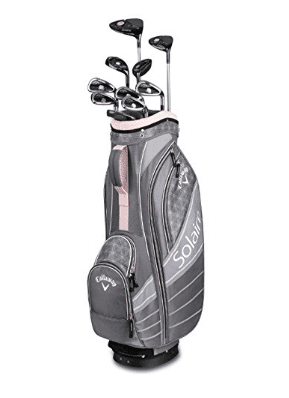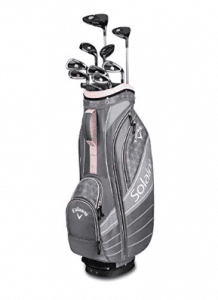 Price:
Perfomance:
Straight, long and Forgiving Driver which is very easy to hit and will definitely improve your driving results. Higher Launching, Perimeter-Weighted, light weight Irons. And Woods and Hybrids, which will be pleasure to play with.
Solaire Gems comes with every type of club you need to play, and all of them are engineered and designed to improve women's golfing experience.
Weight :
Having to carry Stand Bag with 13 clubs sounds too troublesome, But after holding them even once, you'll be impressed how light they are. ( Shaft weighs only 46-52 g )
Premium Odyssey Putter :
This putter is one of the best of its class. Being easy to align, you'll find it very useful in delivering the ball to the hole.
Stylish Stand Bag :
Gorgeous stand bag is one of the things i liked the most about this golf club set. Featuring Cooler Pocket and Removable Purse, it is very handy. Bags come in few colors, so you'll be able to choose which one you like.
Driver Loft : 13.5°
Our Rating :

Shaft Weight : 46-52 g
WOMEN'S CALLAWAY SOLAIRE GEMS REVIEW 2021
These days market is overcrowded with golf club brands and products, some of them are cheap and low quality, others are affordable but still good, like some of the Callaway golf club sets, But this review does not regards any of those. Solaire Gems 13-Piece Set is not cheap, but according to Callaway Solaire Reviews on Amazon, as well as personal experience of using these clubs, it's definitely worth the money.
All Clubs Included in Solaire Gems Golf Club Set Are Specially designed for game improvement. Set comes with Easy to hit Titanium Forged Driver, which stimulates higher launch and longer distance covered. Fairway Woods and Hybrids are very smooth to hit, and Irons are designed to be more forgiving and higher launching than regular irons. Also this 13-Piece Set comes with high quality SW (sand wedge) and PW (pitching wedge), As for putter, Callaway Solaire Gems include Precise Odyssey Premium Putter which is one of the best putters on market. In addition to all these, set comes with golf club stand bag, which is handy and gorgeous, Featuring 8 pockets with cooler pocket and removable purse.
DETAILS ON PRODUCT:
As mentioned before Clubs are high quality, but this set still is very light and easy to carry. According to customers who've used this product, these clubs are perfect for women whose height is in 5'2 – 5″11 range.
And first and foremost, this clubs' set includes everything you need to get started. You can start training using a golf simulator at home or playing right after purchasing your set.
Pros :
Game improvement clubs
Has a great value (it's cheap compared to its quality)
Trusted Brand
Ready-to-Play
Reliable Bag and great club head covers
Compatible with tall women as well as normal height
Left-Handed Clubs Available
Cons :
Driver has 13 degree loft , some people might consider it too much, but the design and shoot distance balance this in terms of perfomance. To sum up, this characteristic can be considered as positive or negative depending on individual experience.
Some color options of the bag often are not available.
CONCLUSION
This callaway golf club set can be considered as one of the best option on market, and definitely it's got great value for its price. So if you're looking for decent Quality, Game improvement and stylish design, this Set is what you need.