Quick Review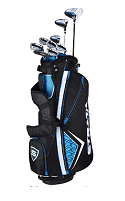 Callaway Strata 12 Piece
Quality of Clubs

Excellent build, decent materials, feels durable. Overall, solid set of clubs that will last you a long time.
Value for the Money

Doesn't cost much, great value considering what it costs.
Golf Clubs

Plenty of golf clubs in the bag, yet not too much. Clubs themselves are great for beginners and even intermediate golfers.
Comparison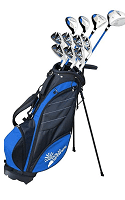 Palm Springs Golf VISA Set
Quality of Clubs

Not the most well-built set of clubs, but good enough for most casual golfers.
Value for the Money

Very cheap and if you outgrow them, you can always upgrade to new one.
Golf Clubs

Solid golf clubs for beginner players.
Callaway Rogue Irons Set
Quality of Clubs

Excellent craftsmanship, durable and looks great. Will last for a long time.
Value for the Money

In my opinion, they are a bit overpriced, but they'll outlast most of other golf clubs you've had.
Golf Clubs

Amazing irons, probably one of the best all-around clubs on the market.
Best Golf Clubs for Tall Guys in 2020
When it comes to buying golf clubs, golfers have wider pool of options to choose from today than they have ever had before. With that being said, there aren't many great golf clubs made for tall men. Best of the clubs are usually made for men of average height, which is a bit less than six feet. There are many male golfers who are much taller than that, but they have to struggle with fitting and other solutions to make these golf clubs work for them. I, being 6'5 golfer, can relate to this problem and that's why I decided to write this post. I want to help tall guys in the task of finding golf clubs that are good for them.
Callaway Strata Ultimate
Even though it is not specifically designed for tall guys, this club set is said to work perfectly for guys who are six foot or even more. That's one of the reasons for why I decided to include it here, but also because of its merits as a club set on its own. Callaway Strata Ultimate is hands down, one of the most popular club sets out there, and for a good reason. It doesn't cost much, but has all the necessary clubs you need to play golf as an amateur or occasional golfer. If you are at the professional level, this club set obviously won't work for you. Other than that, this set could be described as flawless, at least considering the price it sells for. It comes with 12 clubs, one stylish stand bag and few headcovers. Basically, if you're a beginner or intermediate golfer who is tall, but not extremely tall, you can't go wrong with Callaway Strata Ultimate set.
Palm Springs Visa Graphite & Steel Club Set
One thing that sets this club set apart from all other products on this list is the fact that this one is actually designed with tall players in mind. All of the clubs in this set are one inch longer than normal golf clubs, including those I've mentioned here. Because of that, they are suitable for golfers who are extremely tall and very far from average golfer height. Other than that, I think this set is standard affordable club set. It comes with 12 clubs, which are very good, but not top notch. At current price tag, you can't really expect that. Set also comes with gorgeous stand bag, which, according to reviews of this tall men's club set, is very handy. It should also be noted that this set includes two hybrids as a replacement of long irons. Hybrids are much easier to hit, so it's pretty clear that this set is very beginner-friendly.
Callaway Golf 2018 Men's Rogue Irons Set
Unlike other sets on this list, this one is made up entirely of irons. So, as I've mentioned before in this tutorial, if you want more freedom in choosing particular golf clubs for your set, this set will allow you to do that. It is also the priciest set on this list. It is only an iron set, but it's more expensive than both of other club sets combined. In spite of that, I see this set as a great investment because quality is worth a lot of money. You'll be playing with this club for at least few years, so when you really think about it, cost of this club comes down to about twenty dollars a month. Anyone who has been to golf course and paid for tee time knows that twenty dollars a month is peanuts compared to other golf expenses. I must also mention that manufacturer left lots of room for customization. There are many different options for flex, club combinations and you can even choose shaft material you like. Because of its game-improvement capabilities, rogue Irons set is definitely one of the best iron sets not only for tall people, but for all golfers in general.
General Rules for Choosing Golf Clubs for Tall Guys
Just like with regular clubs, clubs for tall men must have good materials, be properly designed and look good. Style of golf clubs might not matter to you, but it does to me and most of my friends, so I've decided to have that as a requirement as well. It is important for golf clubs to be made of good materials because materials define a lot of characteristics of a golf club. For once, the weight of golf club depends on what essences it consists of. For instance, golf clubs with graphite shafts are much lighter than those with steel shafts. It is very important for golf clubs to be light. On the one hand, it impacts swing trajectory and speed and on the other, carrying around heavy golf clubs can be exhausting. On the side note, I personally don't like golf clubs that are too light, either. So there's certain balance to be found. Of the golf clubs I've reviewed below, none of them have weight problem. I think they are few of the best golf club options for tall men right now.
Design of a golf club is also extremely important because it can directly affect performance. Things like weight positioning, clubface design and even club head size heavily influence golf club's, and by extension, golfer's performance on the course. Beginner golfers often prefer forgiving clubs which are easier to hit, and forgiveness has a lot to do with design. There have been significant improvements in design of golf clubs, especially the drivers, in the past few decades. Manufacturers have even invented entirely new category of golf club – hybrid. They were made to be alternatives to long irons, which have baffled beginners for years by being notoriously hard to hit.
Advantages of having stylish golf clubs are probably obvious, so I don't think I should explain them.
There's also an issue of buying golf clubs individually vs buying them in bulk, as a club set. Personally, I think that buying them one by one gives you greater control of customizing your golf club set, but buying them as a set is simpler. Many of the readers prefer simpler option, so in this article, I'll stick with reviewing entire sets.